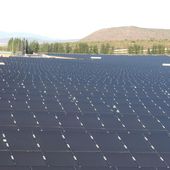 TerniEnergia completes 82.5-MW PV plant in S Africa - SeeNews Renewables
April 26 (SeeNews) - TerniEnergia (BIT:TER) said today its South African subsidiary has completed the construction of a 82.5-MWp photovoltaic (PV) park in Paleisheuwel, in South Africa's Western
http://renewables.seenews.com/news/ternienergia-completes-82-5-mw-pv-plant-in-s-africa-522559
April 26 (SeeNews) - TerniEnergia (BIT:TER) said today its South African subsidiary has completed the construction of a 82.5-MWp photovoltaic (PV) park in Paleisheuwel, in South Africa's Western Cape province.
The Italian renewables and energy efficiency company is building two PV plants in South Africa on behalf of an unnamed Italian utility and the Paleisheuwel site is the first to be completed.
It announced the start of the construction of the 82.5-MW Paleisheuwel and 66-MW Tom Burke PV plants in the country in March last year. TerniEnergia is not naming its customer, but it has been announced that the projects are part of the portfolio of Italian utility Enel (BIT:ENEL). They are among the projects for which Enel Green Power secured power supply contracts in the third phase of the South African government's Renewable Energy Independent Power Producer Procurement Programme (REIPPPP) in October 2013.
Employing a total of 611,000 panels, the Paleisheuwel installation has been connected to the South African grid managed by Eskom. TerniEnergia also has a renewable four-year contract for the operation and maintenance (O&M) of the plant.