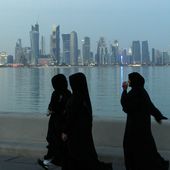 Oil prices dip as investors cash in on overnight surge
Crude oil prices lost ground early Tuesday as traders took profit following the overnight surge, underscoring the growing mixed views that key oil producers could agree on a production freeze this ...
http://www.marketwatch.com/story/oil-prices-dip-as-investors-cash-in-on-overnight-surge-2016-04-12
Oil futures edged higher on Tuesday on hopes that key oil producers will agree on a plan to stabilize production at a meeting in Doha, Qatar, this weekend.
"The much discussed 'freeze' meeting is set to take place this Sunday…and those results are capable of substantially shifting prices," said Robbie Fraser, commodity analyst at Schneider Electric. "However, even if all members agree to freeze, Iran and Libya's stated lack of cooperation should limit any long-term impact from the meeting."
West Texas Intermediate crude for May delivery CLK6, +1.73% tacked on 17 cents, or 0.4%, to $40.53 a barrel, poised to mark its highest settlement since March 22. Futures on Monday finished higher, buoyed by a weaker dollar and higher anticipation that major oil players, such as Russia and Saudi Arabia, will reach a deal on a production freeze.
June Brent oil LCOM6, +2.08% added 42 cents, or 1%, to $43.25 a barrel on London's ICE Futures exchange. Both contracts had traded lower early Tuesday.
For nearly two months, oil prices have been volatile as the market tries to gauge the likelihood of a concerted effort by major oil producing countries tighten supply. The mention of a meeting back in February stoked a buying spree but prices dove when Saudi Arabia, one of the original initiators of the pact, later showed reluctance to participate in the agreement unless Iran pledges to do the same.
Tehran has repeatedly showed zero interest in a production freeze at the current level, saying it would keep pumping until production reaches the pre-sanction level of around 4 million barrels a day.
Oil output from Iran in March climbed by 110,000 barrels a day to 3.23 million barrels a day, according to Platts survey of the Organization of the Petroleum Exporting Countries and oil industry officials and analysts.
OPEC member production climbed by 40,000 barrels to 32.38 million barrels a day last month, Platts said.
'A freeze excluding Iran…will have little to no impact on real crude production. However, the impact of market psychology could still be quite large.' Société Générale analysts
Analysts at Société Générale estimate a 50% probability that the meeting would result in a general production freeze.
"A freeze excluding Iran is all about market psychology. It will have little to no impact on real crude production. However, the impact of market psychology could still be quite large," said analysts in a note.
But the market's attention isn't just on the upcoming meeting.
Supply "numbers out of the U.S. will again have the opportunity to carry the day," said Fraser.
The American Petroleum Institute will release its weekly report on U.S. petroleum supplies late Tuesday, while the Energy Information Administration issues its own figures Wednesday morning.
Analysts surveyed by pricing agency Platts produced a consensus forecast for a 1 million barrel rise in U.S. crude stockpiles in the week ended April 8, driven by stronger imports due to stronger refining margin and sagging U.S. crude output. U.S. gasoline stocks are expected to have contracted by 1.9 million barrels in the same period.
On Nymex, May gasoline RBK6, +0.25% shed nearly a penny to $1.499 a gallon, while heating oil for the same month HOK6, +2.97% added 2.4 cents, or 2%, to $1.239 a gallon.
May natural gas NGK16, +2.82% traded at $1.96 per million British thermal units, up 4.8 cents, or 2.5%, after posting losses over the past two sessions.
Jenny W. Hsu contributed to this report.