February 18 (SeeNews) - US technology giant Apple Inc (NASDAQ:AAPL) has issued on Tuesday a USD-1.5-billion (EUR 1.35bn) green bond as part of a larger, USD-12-billion bond sale.
This is the largest ever US corporate green bond and the first one for the iPhone and iPad maker, according to the Climate Bonds Initiative (CBI).
The proceeds from the issuance will be spent on projects that reduce impact on climate change by using renewable energy sources and driving energy efficiency in Apple's facilities, products and supply chain, the company said in a regulatory filing.
The inaugural green bond will mature in 2023. It has a semi-annual coupon of 2.85% and is rated Aa1 by Moody's. Goldman Sachs, Bank of America Merrill Lynch, Deutsche Bank and JP Morgan acted as underwriters of the issuance.
So far this year, more than USD 11.9 billion of green bonds have been issued, CBI estimates. This means than in less than two months, issuance has neared 30% of the total USD 41.8 billion recorded in 2015.
"There is a lot of potential for the US corporate green bond market and we expected it kick off in 2015, clearly it didn't get the momentum last year but with Apple leading the way this year we may see a ramping up of the market," said CBI head Sean Kidney.
(USD 1.0 = EUR 0.897)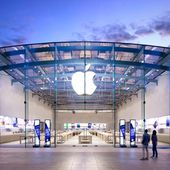 Apple issues USD-1.5bn green bond - SeeNews Renewables
February 18 (SeeNews) - US technology giant Apple Inc (NASDAQ:AAPL) has issued on Tuesday a USD-1.5-billion (EUR 1.35bn) green bond as part of a larger, USD-12-billion bond sale. This is the largest
http://renewables.seenews.com/news/apple-issues-usd-1-5bn-green-bond-513588