Aminex Ready for Production in Tanzania | Petroleum Africa
Aminex Ready for Production in Tanzania
http://www.petroleumafrica.com/aminex-ready-for-production-in-tanzania/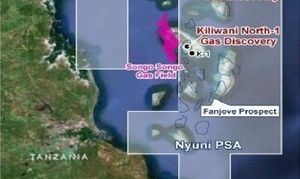 Aminex reported that its Kiliwani North-1 well in Tanzania is currently undergoing final well integrity testing prior to first production. This follows the signing of a GSA last month.
The gas price agreed of $3.00 per mmbtu, approximately $3.07 per mcf, is indexed-linked to the US CPI and not reliant on global oil prices. The company will be paid in USD for all produced gas including commissioning and testing gas.
TPDC advised Aminex to prepare the well for production starting mid-February. Initial production rates will be managed to allow for testing and commissioning of the recently completed gas processing plant and pipeline, while recording critical pressure and flow rate measurements to determine the optimal flow rate to maximize the life of the reservoir.
Partner Solo Oil holds an option to acquire a further interest in the Kiliwani North Development License.
LR Senergy has ascribed 28 Bcf contingent (2C) resources (gross) to Kiliwani North, which was contingent on completion of the GSA. Aminex is expecting to book its first reserves out of the East African country later in the year.