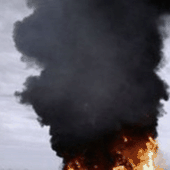 Damietta Pipeline Explodes | Petroleum Africa
Damietta Pipeline Explodes
Reports out of Egypt have an explosion taking place on the natural gas pipeline that links Damietta and Port Said. There were no causalities as a result of the blast although it caused a massive fire in Damietta.
The blast and resultant fire did not affect gas supplies to homes in the city according to reports.
Al Ahram Online report cited the governor of Damietta, Ismail Abdel Hamid, as saying that the cause of the explosion was unclear, adding that an investigation was underway to identify the cause of the fire.