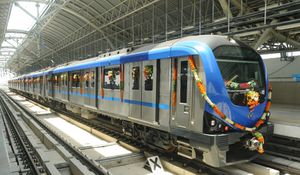 Motala Train, acquired by Alstom in October 2015, has been awarded by AB Transitio a contract to perform heavy maintenance on 25 trains (model X11) used mainly for regional traffic in central Sweden.
Alstom will make a vehicle audit including preventive actions for car bodies, roof, chassis, interior equipment, electrical systems and compressed air systems. The mission starts during the first quarter of 2016 and will be completed in the course of2017. Motala Train has a long and solid knowledge of this type of trains and has historically been renovating and maintaining many similar trains. The new project represents a unique opportunity to combine the knowledge of Motala Train with Alstom's on a larger scale.
"The new contract means that business is picking up for Motala Train since Alstom's takeover in October. The acquisition was an important step in Alstom's ambition to grow in Sweden and offer better service for its customers also locally. During the autumn we have been entrusted with a number of accident repairs, and in the spring of 2016, Alstom's Coradia Nordic trains will come to Motala Train for fleet normalization and refurbishment", says Björn Asplund, CEO of Motala Train AB.